From Crosscut: The 'progressive sisters' transforming Washington politics
Hoping to flip a key swing district
Perhaps Emerge Washington's most high-profile candidate is Kim Schrier, a pediatrician who is running to represent the 8th Congressional District, which sprawls from suburban Seattle eastward across the Cascade mountain range. In 2016, Hillary Clinton edged Trump in the purple district by 3 points. It is currently represented by Republican Dave Reichert, a former sheriff who is serving his seventh and final term.
Before throwing her hat in the ring, Schrier had spent 17 years serving patients in Issaquah, a Seattle exurb in the foothills of the Cascades. Diagnosed with diabetes as a teenager, she was especially concerned about Trump's determination to repeal Obamacare.
"I never, ever thought of myself in politics, but the 2016 election was a big wake-up call for me," Schrier said. "The biggest message was that an unchecked Donald Trump is a very dangerous thing."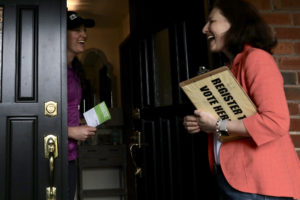 The Emerge boot camp last June provided Schrier with a necessary crash course in political fundamentals.
"We had conversations about all the nitty gritty of running a campaign — how to Rolodex, how to ask for money, how to doorbell and canvas, how to handle adversarial questions, what can a campaign manager do for you?"
Until that point, Schrier, 49, had been plotting campaign strategy around the kitchen table with her friend Tracy Dobmeier, who grew up two doors down the street from her in Los Angeles and now lives in Issaquah. They've been pals since age two.
"We quickly realized that this was bigger than two best friends could handle," said Schrier, who supports single-payer health care, urgent action on climate change, and tougher gun control measures.
Last August she hired Michael Beckendorf, a professional campaign manager. Now she's leading the race for money and endorsements in a crowded Democratic field that is seeking to face off against Republican Dino Rossi.
And, of course, she continues to consult with women she met through Emerge.
"The bonding and the sisterhood that our groups form is actually more than half of what we do," said Besserman, the Washington director. "They'll support each other for life."
Word of Emerge is quickly rippling through Washington's progressive political circles. Turnout was strong on a recent recruiting trip, with more than 125 people turning out to learn about the group.
"Women came out in droves to meet us," Besserman said. "They are fired up. They want to run, and they want to win."