"I don't think Congress right now, with its divisiveness, is really representative of our country."
There are 15 doctors currently serving in Congress. All are men and 13 are Republicans — but Kim Schrier is trying to change that.
A practicing pediatrician, mom and Type 1 diabetic, Dr. Schrier is running in Washington's 8th Congressional District to become the only female doctor serving in Congress and just the third woman in United States history with those credentials. Her motivation to run came after an encounter with Rep. Dave Reichert, the Republican retiring from the seat she's now trying to win.
"When that first 'Trumpcare' bill came out, I went and met with my congressman with three other doctors and explained the ways it'd be bad for my district if he voted for it," Schrier told A Plus. "And within days, he voted for it in committee. I was ticked off — it never would have made it the floor, where it ultimately died, if he hadn't voted for it in committee… and I felt like he just lost touch with the district."
Since announcing her run, Schrier has picked up an endorsement from EMILY's List, the organization scouring the country for women to run for office. Katie Rodihan, Schrier's communications director, told A Plus that the candidate has raised more money than her next two Democratic primary opponents combined. A Democrat has never won a congressional race for the 8th District since its creation in 1980, despite the fact that former secretary of state Hillary Clinton and former President Barack Obama won the district a combined three times.
"Right now, people are worried about health care, and who better than a citizen mom pediatrician — and I have my own pre-existing condition, Type 1 diabetes — who better to represent the fears and concerns in this community than me?" Schrier said.
Along with her experience as a pediatrician and her first-hand experience dealing with the challenges of healthcare, Schrier emphasizes that — if elected — she'd be the only woman in Congress who has worked as a doctor.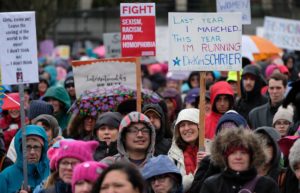 Like several candidates A Plus has spoken to, the image of a group of men drafting a health care bill in early 2017 stuck with Schrier.
"That picture of 13 men sitting around a table making decisions about reproductive rights made me want to scream," Schrier said. "Our representatives should really represent. They should be members of our community and Congress should look a lot like our community — gender, ethnicity, careers, everything."
While Schrier is considered the favorite to come out on top in the August 7 primary race, there has been some drama around the polling released by her campaign and her top Democratic opponent, former King County prosecutor Jason Rittereiser. Even if she comes out on top, she'll have a challenging path forward in November. Her Republican opponent will in all likelihood be Dino Rossi, who in February had already raised $1.3 million to Schrier's $595,000. Rossi is a former state senator from Sammamish, Washington who already has two failed bids for governor and Senate. But he's "cleared the Republican field," according to the Seattle Times.
Both candidates will be vying for a district that has monumental national implications. Washington's 8th Congressional District is considered a barometer of the national mood, and neither Democrats nor Republicans expect to win the House of Representatives without it. "A congressional race here has become a crucial test of whether Mr. Trump's upending of the norms of international trade will come at the expense of Republican candidates," The New York Times said of the "quirky" district.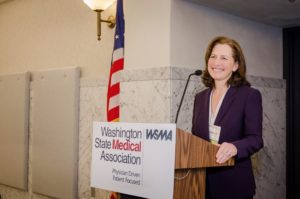 Split between the Seattle suburbs and rural Washington, Washington's 8th Congressional District has a complex mix of issues that voters prioritize. Health care is Schrier's primary focus, but constituents in the district also care a great deal about public lands issues related to hunting, fishing and the sale of protected land where those activities take place.
President Donald Trump's tariffs, too, are now playing a big part in the race. Washington state is a leader in apple and dairy farming, both of which were hit hard by retaliatory Chinese tariffs in the 8th district. Boeing, too, has a manufacturing plant in the district that has been affected by steel tariffs. The International Association of Machinists & Aerospace Workers (IAM), which represents Boeing workers and has 45,000 members, endorsed Schrier.
"I think in other times there may be a bigger divide," Schrier said. "Right now there are a lot of shared concerns… this is a district that is very much split and looks at issues rather than if there is a D or an R."
While it's anything but a single-issue district, Schrier remains adamant that Congress needs more women and more doctors to address health care. She described reproductive rights as having "a big old target" on them and expressed befuddlement that women are doctors, teachers and mothers but are not trusted to make their own decisions about their bodies.
Schrier added enthusiasm about the wave of women running for office and said that it'd be "incredible" to get more women on both sides of the aisle, because — while she doesn't like to make generalizations — she thinks women, in general, have a little less ego and are a little more inclined to work together.
"I suspect that we all look a little bit further than the next election," Schrier said. "We look at our children, we look at our grandchildren and we think about the world that we want them to grow up in… I don't think Congress right now, with its divisiveness, is really representative of our country."
https://aplus.com/a/doctor-kim-schrier-washington-eighth-district